- This is a Continuing Education (CE) Course and Requires you to Have a Non-Expired Guard Card -


If you DO NOT HAVE a Guard Card, or your Guard Card is Expired,
then this is NOT THE COURSE YOU NEED: Click here for the Guard Card Course
This course meets the CA State BSIS 8-hour annual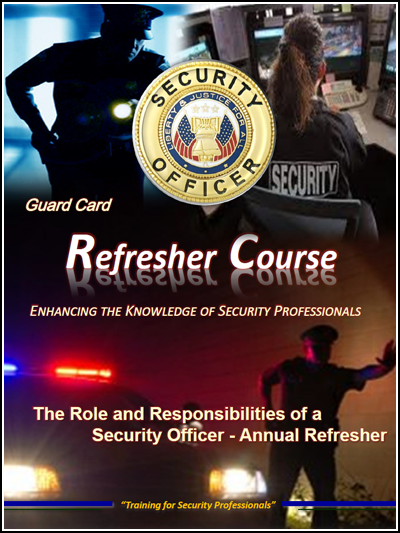 continuing education (CE) requirement for all CA State security guards. The course is designed for CA State security guards to take each year, after the first year of having their CA state guard card approved.
(8-Hour BSIS Annual Refresher Course - SC-200) - $24.00



The Annual Refersher course is an 8-hour course that covers a wide variety of topics that are taken directly from the initial 40-hours first year requirement courses. It is designed to re-educate CA state security guards on a variety of important topics.
8-Hour Refresher Course Contents
The 8-Hour refresher course contains topics from the following courses which are parts of the standard BSIS 40-Hour Course set:
Power to Arrest and Weapons of Mass Destruction - (SC-101)

Communication and its Significance (SC-102)

Public Relations (SC-103)

Observation and Documentation (SC-104)

Liability / Legal Aspects (SC-105)

Arrests, Search and Seizure - (SC-106)